Small business owners face a multitude of challenges and often require expert guidance and support to navigate them successfully. Small business consulting is a lucrative and rewarding career option for those looking to help business owners achieve their goals. However, aspiring consultants may struggle to establish themselves in the industry and attract clients without a clear understanding of the consulting landscape.
The problem is that without a strong understanding of the small business consulting industry, consultants may face difficulties building their reputation, establishing credibility, and attracting clients.
The solution is to become well-versed in the various types of small business consulting services available, including financial management, marketing, operations, and human resources. It also includes developing a niche, building a strong network, and providing value to clients through case studies and testimonials.
Our promise is to provide a comprehensive overview of the small business consulting industry, including the benefits of working with a consultant and the types of services available. We will offer practical tips and guidance for those considering a career in small business consulting, including how to establish a consulting business, build a strong client base, and create effective strategies to help clients achieve their goals. Our aim is to empower aspiring consultants with the knowledge and tools they need to succeed in the rewarding world of small business consulting.
Statista estimates that the consulting industry in the United States will be worth $64.4 billion in 2020; this amount is not entirely covered by large companies that cater to enterprises. Small company consulting has a hugely profitable market, and the work itself may be fulfilling and interesting.
As a small company consultant, you might earn well if your area of expertise—whether it's sales, marketing, IT, or finances—is highly regarded. In the sections that follow, we'll go over what small business consulting comprises, the services that are provided, how to launch a small business consulting company, how to work independently as a small business consultant, and how much it costs.
Small Business Consulting
Small business consultants offer guidance to company owners on strategy, problem-solving, and skill development. They also provide strategies and resources to raise an organization's performance. Small company consultants are essentially contract employees who will identify issues, carry out remedies, and accomplish objectives.
For small firms that can't afford full-time staff year-round, require a third party to solve a business problem, or want an expert to provide advice and strategy, consultants may be a valuable resource.
What does a small business consultant do?
Small company consultants are capable of performing a range of duties. They could create a marketing strategy, public relations campaign, company plan, or sales strategy.
They can choose to specialize in a particular field, such as marketing, public relations, operations, human resources, or accounting. It would be challenging to list every type of small business consultant imaginable in a single article. They can assist in covering almost all the bases a small firm needs to.
In the end, all small company consultants are comparable in that they're independent enterprises that small businesses hire for their knowledge and assistance with particular tasks that those businesses don't feel qualified to manage themselves.
Let's go through some of the services a small company consultant could offer below.
Small Business Consulting Services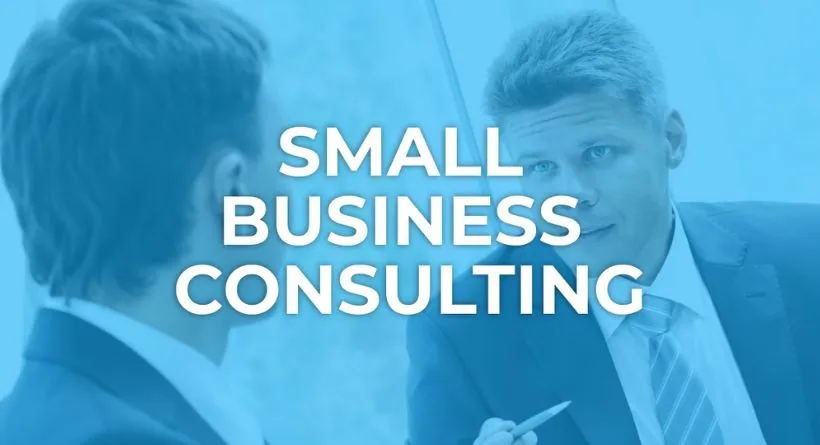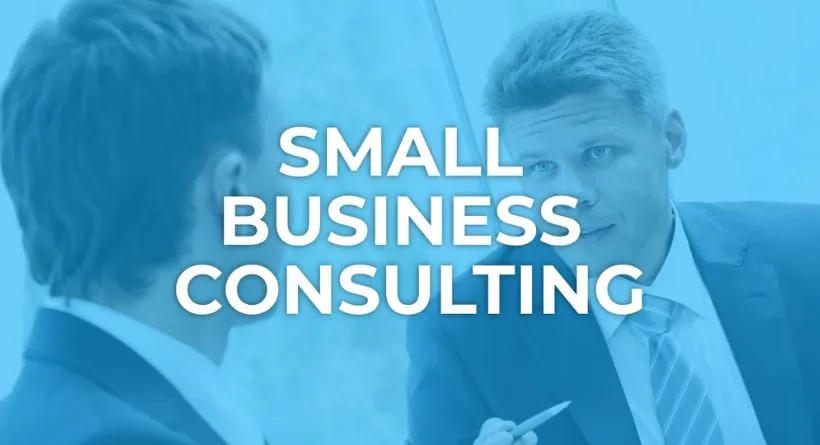 Sales and marketing consulting.
Project management consulting.
Reporting
Forecasting
IT consulting.
Accounting consulting.
Strategic planning.
1.    Sales and marketing consulting.
You may readily use your expertise as a small company consultant if you are an expert in the field or have experience in sales and marketing.
There are several ways a small company consultant might collaborate with a sales and marketing team. For instance, they could devise a marketing plan, a digital strategy, or work on the site development or training aspects of the project.
For the sake of illustration, assume that a business contacts a consultant because its sales force has been underwhelming. A small company consultant will visit, observe, and identify the issues (whether they are related to operations or training), then work to develop and implement a plan of action.
2.    Project management consulting.
Project management is one of the primary reasons businesses engage consultants for small businesses.
Let's imagine that a business is planning to introduce a new product, but they are unsure of how to plan for it because they only have five employees, and none of them are involved in project management.
At that point, a consultant might step in and instruct your staff on how to manage the project or take on the role of contract project manager.
Additionally, if a business consistently experiences operational inefficiencies, it may want to think about engaging a consultant to identify these inefficiencies and develop a strategy to enhance project management inside the business.
3.    Reporting.
A consultant may assist a business with reporting in two ways: they can compile analytics and reports and examine the reports that are already in place.
A business could choose to work with a consultant on a more long-term basis for this service. When it comes to reporting, a small business consultant can assist a firm in gathering and comprehending the analytics or reports so they can make informed business decisions.
If a business or owner attempts to accomplish this on their own, they risk misinterpreting the data or failing to comprehend what the figures indicate in relation to other factors.
4.    Forecasting.
A small firm that is just getting started requires estimates and forecasts for the near- and long-term future.
However, predicting is challenging when there are insufficient staff, resources, or time to collect and analyze the data. A small business consultant can step in at that point. They'll collaborate with the business to comprehend and formulate accurate estimates.
5.    IT consulting.
It might be difficult for a small firm to select the appropriate technology and set up the system effectively.
For these reasons, businesses need consultants for IT services. A consultant may assist in selecting the appropriate technology and guarantee that the technological systems are configured properly and effectively.
A small business consultant may assist in identifying technical inefficiencies and then come up with a solution to enhance a company's system and procedures if it has been in operation for some time.
6.    Accounting consulting.
Another long-term service that a small firm could use is accounting. Having an accounting staff may not be financially advantageous for a small team. But every business needs a professional to oversee and manage the funds.
A small company consultant with expertise in financial management can be brought in to aid with tax preparation, payroll setup, and budget adjustments. One of the most challenging aspects of running a small business is managing the finances and accounting, but it's also one of the most crucial areas to do right.
7.    Strategic planning.
Small company counseling is really about strategic planning. Planning strategic messages or launches could be assisted by a small company consultant.
A small company consultant's job is to pinpoint problems and thoughtfully formulate remedies. They are essentially innovative problem solvers who can focus on any aspect of company and make small businesses run more smoothly.
Learn More Here.
How to Start a Small Business Consulting Firm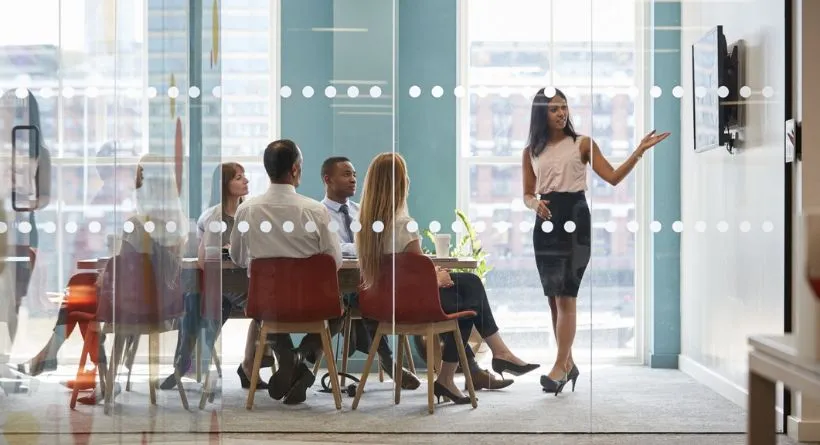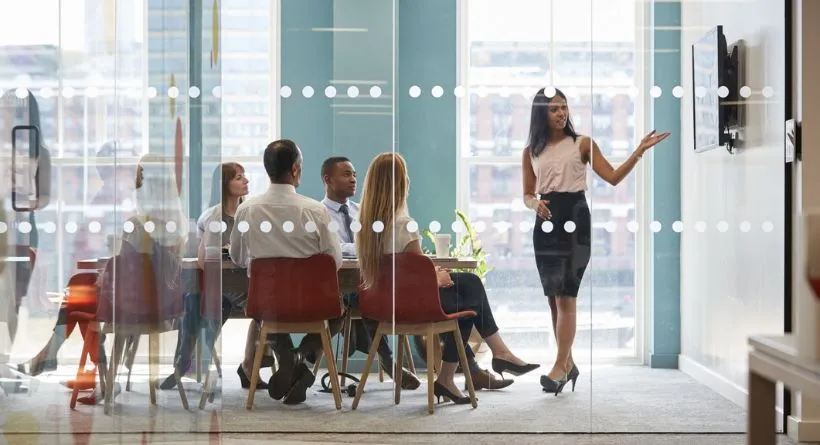 1.    Find a niche, and specify your services.
What plans does your small business consulting firm have? Who are you, exactly? Who will you become? You must have more defined objectives when launching your own small company consulting agency than just "We're going to consult for small businesses."
Your typical small business is both specialized and complicated, so it's unlikely that you'll be able to manage every part of every company in every industry. Prior to beginning to put your business together, your specialty must be firmly established.
Your company will fare far better if it focuses on something like "communications for pre-seed funding B2B SaaS startups" as opposed to advertising itself as a "small business consulting firm for small businesses."
2.    Get a strong feel for your market and its typical pain points.
Once you've identified your niche, you need to know how to approach your target market most effectively. It's likely that you won't be entering your own small business consulting organization completely blindly. You should, at the very least, have some level of expertise in your profession.
But when trying to build your own company, you can't only depend on your existing knowledge of a market. To comprehend the organizations, you're seeking to deal with and the problems they probably face, you need to undertake in-depth market research.
Reach out to company owners on social media sites like LinkedIn to see if you can gain any insight into the challenges and failures, they experience most frequently. Look for publications like thought leadership essays and blog posts that are relevant to your sector. In order to gain a comprehensive understanding of how your target sector operates, see if you can attend conferences or download webinars.
Get a good sense of who you're attempting to appeal to in some way; it can help you effectively guide practically every other recommendation on this list.
3.    Document a business plan.
Although creating a business plan isn't always necessary for launching a successful small business consulting firm, it may still be quite helpful and doesn't have to take long.
It may be a huge advantage for you both internally and externally to have a well segmented, concise document that outlines who you are, what you do, your market position, your future ambitions, your financial state, and other important factors that define your firm's identity and sustainability.
You may better understand your strengths, shortcomings, and possibilities by creating a business plan. You'll also have a document you can present prospective customers to demonstrate your effectiveness and legitimacy. Again, this step is optional, but it might still be beneficial to you in the long and near terms.
4.    Cover your firm's legal bases.
Hiring an Attorney
A small business consulting firm is no exception to the rule when it comes to the legal requirements and challenges that come with starting any form of business. This is why you need to get capable legal counsel to help guarantee that your business starts off inside the law's parameters and doesn't cross any lines as it expands.
But it's easier said than done to find the correct legal counsel. It might occasionally feel like chasing a unicorn to find a qualified, fairly priced, consistently accessible attorney who is willing to represent your company.
The best course of action is to set a definite budget, realistic expectations, and move forward from there. Make sure the attorneys you are considering have provided their clients with excellent service by thoroughly screening them, especially those whose qualities are similar to those of your company.
Landing on a Legal Business Structure
After hiring a lawyer, you must collaborate with them to decide what sort of entity you want to register. What will be the legal makeup of your company? The way you pay your taxes is one of the other major critical components of your operations that will be influenced by your response to that question.
Four primary legal business structures are as follows:
One individual is in charge of the earnings and obligations of a sole proprietorship.
Partnership: A situation in which two or more persons share responsibility for a company.
Owners of Limited Liability Companies (LLCs) are not held personally liable for the debts or obligations of the company.
When a company is incorporated, its owners are seen as being legally independent from it.
In general, it makes the most sense for a small business consulting firm to incorporate as an LLC. But it's not a given that that will happen. Given the choice some serious thinking and, if you already have legal assistance on hand, seek their advice when deciding how to continue at this stage.
5.    Research your competitive landscape.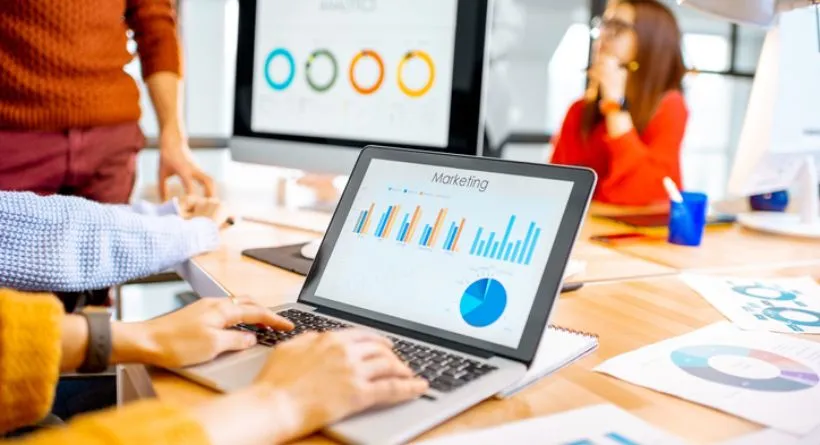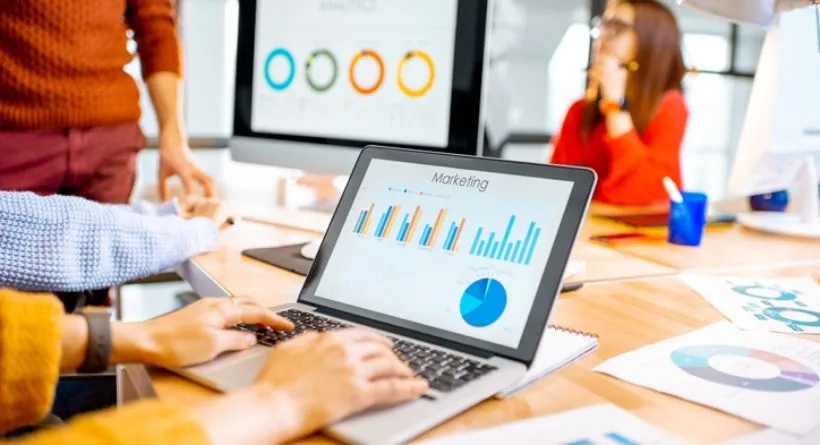 If your company's specialty isn't as specialized as a niche may be, you'll inevitably face competition in your industry. Other consulting businesses will be competing with you for the same clients, so it is in your best advantage to understand how they run.
Check out the services they provide and the categories of businesses they often serve. By doing this, you may find out what sorts of businesses are seeking for businesses that specialize in your field. It could also enable you to spot demographic gaps in their audience that you can specifically target.
Several facets of how you do business should naturally be influenced by your competitors. Your services have a market, and you need to find a suitable, profitable spot within it. The first step in doing that is understanding your opponents.
6.    Understand your financial situation — including potential pricing structures.
Initial Funding and Budgeting
Here's where you get into one of the more uncomfortable but essential elements of getting your small business consulting firm off the ground. Starting a business without a clear understanding of your finances is equivalent to preparing to spend money carelessly and hope for the best.
You must have a clear understanding of the precise financial facts supporting your first efforts, as well as a picture of the source of the funds and how trustworthy that source is. Are you receiving investment funding? Are you making a personal payment? Do you rely on your loved ones and friends?
With that knowledge, you can begin to budget for the costs associated with setting up your business and the methods you'll use to draw in and keep clients.
Pricing Structure
A realistic financial projection that takes into account elements of your company, such as your pricing structure, is another requirement. The question "How and how much am I planning on charging clients?" must be asked by you.
Will you put them on retainer and charge them? Hourly? via a project? This action is very dependent on the previous one. You have to have a clear understanding of the going rates and pricing strategies used by your rivals. By doing so, you can make sure that your pricing is reasonable and aggressive enough to compete with those of your competitors.
Here, you need to be reasonable. Choose a reasonable price strategy that will allow your company to survive without driving away too many prospective customers. You'll likely need to experiment a little to figure this out. After all, if there are no small companies willing to pay for your services, you cannot maintain a profitable small business consulting organization.
7.    Prepare to address bookkeeping and accounting.
Another key element of starting a small business consulting firm is covering the administrative aspect of your organization — namely bookkeeping and accounting.
Accounting and bookkeeping are similar to the legal side of your business — they're grating but essential. You need to have your books in order if you want to avoid trouble from the IRS. But that can be tough for anyone starting a small business consulting firm.
In many — if not most — cases, small business consulting firm founders aren't starting their firms to spend their time and energy tied up in their numbers. That's why you're best-off hiring bookkeepers to handle at least part of that process.
It could also help to outsource your accounting responsibilities to a CPA, but there's a good chance you might not have the budget for that. In that case, you might want to explore leveraging some sort of small business accounting software to get that side of your operations in line.
8.    Begin to develop an online presence.
Once you have your more administrative infrastructure in place, it's time to start attracting potential clientele. That starts with establishing a solid online presence. Put together a well-constructed, easily navigable, professional website that shows visitors who you are as a firm — that'll help you come off as more trustworthy and legitimate.
Consider starting publishing industry-specific blog content and other marketing collateral to help bolster your reputation and establish yourself as a thought leader. Tactics like those can be powerful lead generation and prospect engagement resources.
You also need to continue networking proactively but not aggressively. Connect with your target audience. Start some conversations through platforms like LinkedIn, and begin to establish some relationships with prospects in your space.
Beyond that, you should start profiles on various social media platforms to meet your prospects where they are, let your satisfied clientele leave positive reviews, and promote your thought leadership through as many channels as possible.
9.    Determine your value proposition.
Your target market, competitors, and the larger market should all be well-understood based on the knowledge and insight you have gathered thus far. These elements should guide your value proposition when considered collectively.
What distinguishes you from your rivals? Can you provide high-quality consultancy at a cheaper cost than your competitors in the field? Can you provide the small companies you work with a level of customized care that no one else can? Do you possess more experience than the typical company in your industry?
Find out what makes you unique and base your sales and marketing strategy on it, anyway you can. Make it a point to target the personalities you have identified as being most receptive to your services.
This is where all of the other items on the list come together, in many ways. Your value proposition is what truly gets things moving once you've put the various components of a successful small business consulting firm together.
10.  Start staffing sustainably and effectively.
The main distinction between founding a small business consulting firm and working as a consultant for small businesses is that a firm entail hiring staff. As your company grows and you can afford to hire more staff, be sure you're recruiting strategically.
Do your homework on the prospects you want to hire, then reach out to them in a unique, non-generic way. Make sure the job descriptions are detailed and clearly explain your expectations, the duties of the position, and your ideal credentials if you intend to use job postings to discover suitable workers.
It might go without saying, but when you go through the hiring process, you also need to have the means to hire new employees. At this stage of the process, you can't go overboard; be sure to staff sustainably.
How to Become a Small Business Consultant
Suppose you want to start a small business consulting firm but lack the motivation or funding to do so. If so, you might choose to work independently as a consultant for small businesses. Here is a brief explanation on how to accomplish that.
1.    Choose a specialization.
Identify your area of expertise. For the best chance of becoming an authority on a topic, you should have five years of full-time experience.
2.    Research certifications.
Particularly in the sector of fundraising, certain jurisdictions have legislation governing consulting. Before you begin, find out if you need to be certified in order to operate as a consultant in your state's sector.
You should continuously learn new things and be involved in your niche market. For instance, if you work as a marketing consultant, make sure you are knowledgeable about the field by enrolling in courses and keeping up with the most recent developments. You should place a high focus on continuing your education.
4.    Begin networking.
To be a consultant, you need to build a list of contacts. Begin by attending local events and conferences for small businesses.
5.    Decide on a pricing structure.
Once you're starting to drum up interest in your company, you need to consider how much you're going to charge. You can look up the competition and see their rates. Do they price per project, hourly, or on a retainer business?
6.    Have a marketing plan.
Figure out how you're going to promote your services. Plus, consider your budget. How much do you want to spend on traditional or internet marketing?
Average Small Business Consulting Fee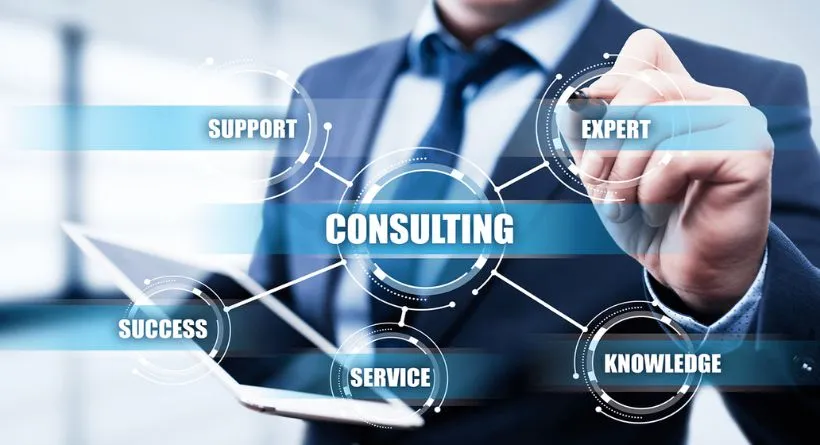 Finding an average rate for small company consulting can be challenging given the wide range of types of consultants available to small businesses. Location, price strategy, and if you want to keep up a connection with the client over time all affect these rates.
One of the better places to start when figuring out what to charge for your small company consulting services is by looking at what your direct rivals are charging. You should probably keep your prices in that range if you can offer equivalent services.
In light of this, you must ensure that you're going rate is worthwhile. Find out the typical pay for a job that needs your expertise; consider it an opportunity cost of sorts.
Once you know that amount, you may utilize it to determine your potential earnings on a monthly, weekly, and hourly basis. Try selecting a fee that matches what you may be earning if you weren't working as a consultant using the information above.
That reasoning may be used to justify almost any pricing structure for small company consulting, including retainers, monthly payments, project-based billing, and hourly rates. You may progressively and sensibly raise your pricing as you complete more assignments and establish your reputation.
Small Business Consultant Salary
According to ZipRecruiter, the national average compensation for self-described small business consultants is $63,750, with the 25th and 75th percentiles being $51,500 and $74,500. Those numbers typically change depending on the area and profession.
In general, working in small company consulting may be gratifying. When problems are solved creatively, each day is unique and full of exciting challenges.